We will continue to update this website with more details as the event gets closer, so please bookmark this page.
Last update: 8/21/23 4:34PM

CURRENT ACTION ITEMS:
Check out the current event details/schedule by visiting the Business Expo & Summit page on our website
PRIZE DONATIONS: We prefer that you bring your prize donations to the REV Center on Wednesday anytime from 12 – 6. Please drop them off at the table in front of the prize wall. This will be located at the oversized booth near the men's restroom. If you need to drop your prizes off before Wednesday, please deliver them to the Chamber Office.
Lastly, SPREAD THE WORD about our Expo & Summit! The more each of us shares, the more value everyone gains from the event. Content to share on social media, email, etc. is coming your way. ***Download the Expo Sponsor Graphic Here***
---
SETUP TIMES
Feel free to come during any of these times to setup your booth:
Wednesday between 12:00PM and 6:00PM
Thursday between 8:00AM and 11:00AM
All booths should be setup by Thursday at 11:00AM when we will expect our attendees to start arriving.
Please follow signage for the exact vendor check-in location at the REV Center.
---
PRIZE DONATIONS
After great reviews, we are continuing our prize passport/punch wall again this year. We will increase the number of vendor stamps required for attendees to complete their passports, but we know this is a great incentive for attendees to visit your booth! All of our vendors are asked to provide 2 prizes valued over $15 for our prize wall. These prizes are due no later than Wednesday, August 23 so that we can prepare the prize wall.
If it's not a branded item, feel free to tape your business card or company info to the prize.
We prefer that you bring the prizes by the REV Center on Wednesday from between 12 and 6. If you need to drop them off on Monday/Tuesday, please bring them by the Chamber Office.
---
SPREAD THE WORD!
Feel free to use this graphic as you'd like to share your participation in our expo this year! You can post to your social media, send via email to those you'd like to invite, etc. The more each of us shares the larger our network and community builds.
Click here to download the image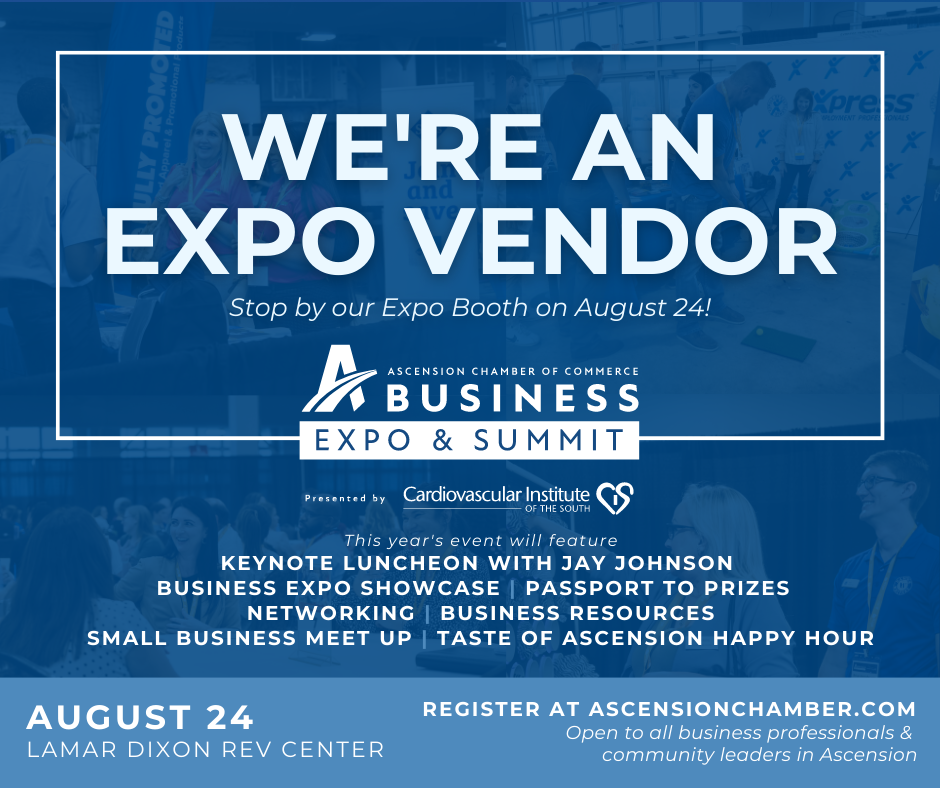 ---
OTHER DETAILS
Plan your booth space to showcase your business and engage attendees! Each booth will be a 10×10 drape setup with a 6ft skirted table. Colors will be black and white. Visit this FB Photo Album for pictures from last year.